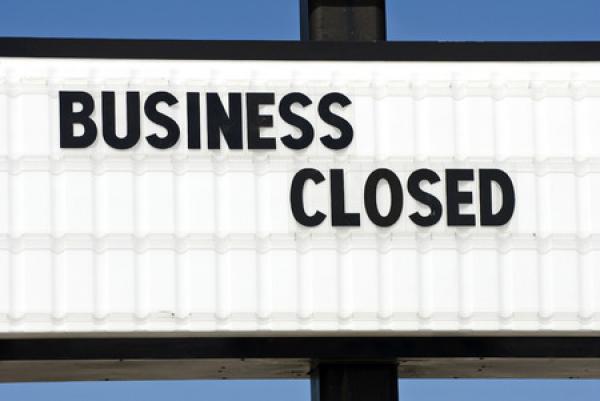 Shutting down your business can be tough emotionally. Maybe it's something you've run for a longtime and you just don't have the time for anymore. Or perhaps you had a dream that never really got off the ground.
Regardless of the situation, there are a few things you're going to want to do when closing your business to ensure your finances and interests are protected. Here's what you need to do if you plan on closing your business.
Make the Proper Cancelations
If you're closing your business, you likely won't need any registrations, permits or licenses anymore so be sure to cancel any of those you currently have. Also cancel your trade name, if you happen to have one, to help ensure your business identity is not stolen in the future, as this can cause major liability.
Dissolve Your Business
It's important to legally dissolve your business in the state you originally opened it in. Failure to do so can lead to either fraud, unpaid taxes, unpaid annual reports, etc. all being due, in order to shut down the business at the state level. At the federal level, if a final return is not completed this will mean that your business will still legally have to file taxes, even if you've made no money. If you don't file, you'll be subject to penalties that can add up to more than $2,000 annually, depending on the entity.
Tie Up Loose Ends
Now that your business is closing, it's time to resolve any outstanding financial obligations you may have. If the business owes any money to investors, employees or anyone else, now is the time to make those payments. File your income tax returns for your final year in business, inform your state and federal tax agencies that you'll no longer be in business and cancel your employee identification number. There is a very specific way you need to shut your business down and there are time frames that you must adhere to. Please feel free to reach out to us at Traders Accounting if you need assistance with this.
If you're considering closing your business and feel overwhelmed by the various responsibilities, Traders Accounting is here for you. Our professional staff can help ensure that you've got everything covered before you shut down. Call 800-938-9513 to learn more about how we can help you today.
https://ec2-44-236-220-125.us-west-2.compute.amazonaws.com/wp-content/uploads/2022/06/Business-closed-.jpg
401
600
Traders Accounting
//tradersaccounting.com/wp-content/uploads/2016/06/traders-accounting-logo-final-1030x326.jpg
Traders Accounting
2022-06-10 19:13:58
2022-06-20 19:36:48
What to do When Closing Your Business